Gone are the days when jumpsuit or play-suit was seen as a trademark fashion apparel meant for women working in farms or dress which resembled uniforms of Air force pilot, Skydiver. Rather, fashionable ladies, especially fashionable moms, geared up this spring-summer with variety of jumpsuits to enhance their looks. These jumpsuits give them flattering and deceiving look without much effort.

This easy to wear dress is liked by all moms as its all-in-one design, covers stretch marks around her waistline and hides deformity of tummy line. Few of the flattering styles of jumpsuit include halter neck, torn collage tube top and wrap styles which help to balance out wide hips and define your waist. Wear these jumpsuits with high heels to get glamorous feel.

Python halter jumpsuit: Jumpsuits are a hot item for spring. This style features a python print, halter top and a keyhole neck. Layered style creates flattering shape.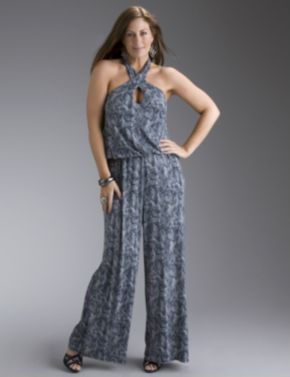 Original price of Python halter jumpsuit at Lane Bryant is $79.50.

Button front jumpsuit: This trendy jumpsuit is one of season's hottest looks. Curve-hugging knit features a button front, pointed collar and elastic waist. Front yoke with seam. Wide legs.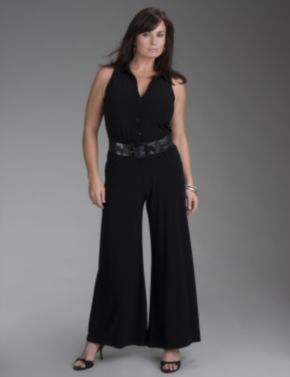 Original price of Button front jumpsuit at Lane Bryant is $89.50 but now you can have it for $35.80 only.

Torn collage tube top jumpsuit: Dramatic jumpsuits are one of hottest new trends. Tube top style features a bright torn collage pattern on top and solid black bottom with self tie belt.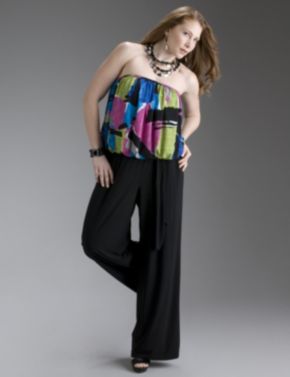 Original price of Tube top jumpsuit at Lane Bryant is $79.50.

For Spring-Summer 2010, all in one play-suit or jumpsuit is a great alternative to dress. They are versatile, easy to wear and available for every occasion from a day at beach to an evening out. Some of the famous stores for elegant and trendy jumpsuits are Lane Bryant, Macys, Buy.com and lots more. There are variety of stylish jumpsuit around this season, which is bound to be one to suit just everyone from eighties style to glittery and casual.